Do you have lots of ribbon laying around? Trying to use it all can be a challenge. Come the Christmas season can be a way to use up those ribbons. You may ask how? Easy, make gift bows!
Here I used the Striped Burlap Trim for my bow.
This gives any present an "Old Country Christmas" feel to it.
Use it on a paper bag, wrap a gift in plain brown paper or a plain paper box and then add a bow!
Free PDF of how to make this bow with purchase of the ribbon, use hostess code
N79YGS23.
Click on the image below to order through my store.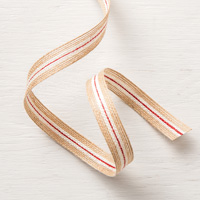 5/8" (1.6 cm)Striped Burlap Trim
Price $8.00
Christmas Homecoming
A widow of a war hero takes in an injured soldier who has just returned from Afghanistan. Together they help each other heal and find true love.
I would love to hear your comments and do not forget about the hostess code for a free gift during this months campaign for purchasing $20.00 or more. If order exceeds $150.00 do not use hostess codes so you can get the extra hostess rewards and you will get the free item automatically.