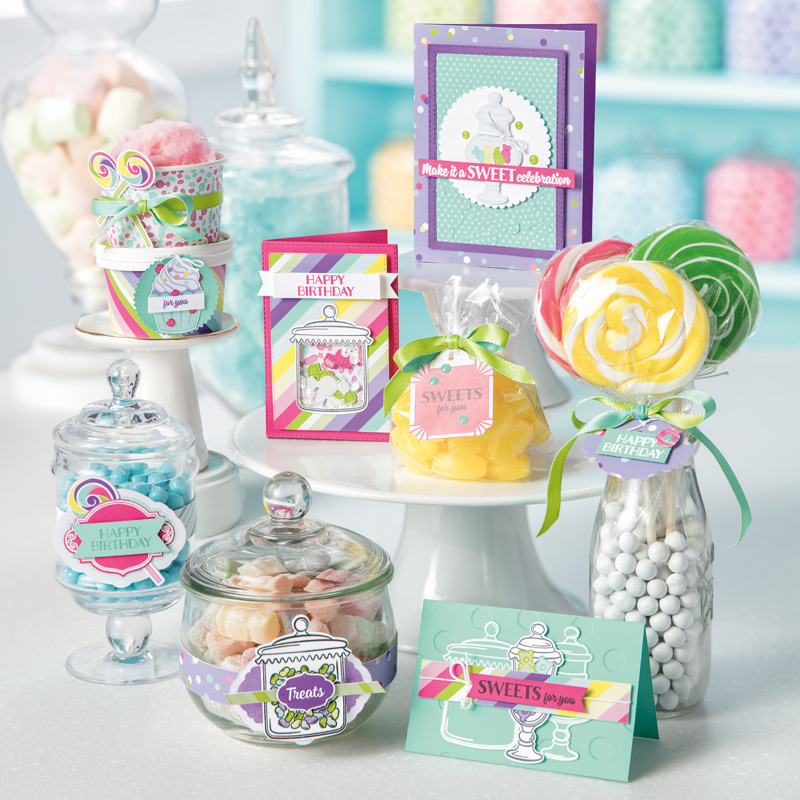 This set is a very versatile set. It can be used for any occasion and holiday. I have a few ideas to use it for Halloween, I can see black and orange candy, spooky spiders and cobwebs everywhere. But for now I used this set for birthdays.
Here are a few ideas to use this set. Starting from left to right.
I started with a birthday gift card card. I cut out the jars using the coridinating dies. My cardbase is Whisper White cut at 5 1/2 x 11 and scored at 4 1/4. I cut a 4 x 5 1/4 piece of the How Sweet It Is polka dotted dsp and adhered to the card front. I then took some of the Coastal Cabana/Granny Apple Reversible ribbon and zigged-zagged it across the card front. I popped up the die cuts and added a few glitter enamel dots to finish the front.
On the inside I stamped the sentiment in Gorgoues Grape and added some fun candies to the side in Granny Apple Green, Lovely Lipstick and Pineapple Punch. I used a die (non Stampin' Up!) to create the gift card holder in Very Vanilla cardstock.
Next I wanted a party hat box, so I used the Sweet Cups for my box. I covered it with the How Sweet It Is gummy bear dsp using the provided template here. I then made a hat to put on top of the box. I hotglued it down. I added a piece of the Coastal Cabana/Granny Apple Green Reversible ribbon around the lid top. I then took another piece of the same ribbon along with some Lemon Lime Twist Ombre ribbon, tied into a bow and glued it to the top of the hat and filled it with some candy.
Now we need some cake. I found these on Amazon (click on the image to go to Amazon page if you wish to buy it),
Rainbow Chip Cake Mix with frosting!
You make them in a mug and they are great for a fellow co-workers birthday or for your self.
I cut the How Sweet It Is striped dsp to 5 x 12 scored at 5 1/2 and 11. Fold the flap over and punch 2 holes for the ribbon to slide in. Using the Coastal Cabana/Granny Apple Green Reversible ribbon to make a bow. I then cut the rainbow dsp 4 x 3 3/4 and added to the front of the pouch. I die cut four of the jars. Glued two of them down and popped up the other two. I added some glitter dots to the jars of candy and the dsp. Then I added the Sweet Pins and Tags embellishment. I stamped "Happy Birthday" in Gorgeous Grape and added 3 of the purple glitter dots on the square tag using the pink pin to secure it to the bow.
Click on any image to order
Come Shop with me: http://www.stampinup.net/esuite/home/donnaschnees
or go to the sidebar on the right and click on the Come Shop with me button. Also do not forget to subscribe to my blog to see new specials and updates. Any questions? Please email me at: donnaschnees2008@embarqmail.com If you are having trouble with leaving comments, please email me and let me know. Thank you:)